IGP Girls Clubhouse Dededo 10-3pm
IGP Girls Clubhouse Malesso 10-2pm
Benavente Middle School After School IGP Club Tues 3:30-5:30
Community Garden Meetings every 3rd Saturday from 10:30-11:30am Open to the Community
CAPOEIRA Self Defense Classes Tuesdays and Thursdays 6-8pm Open to the Community
Island Girl Power Dededo & Malesso Clubhouse
OPEN SATURDAYS from 10-2pm
Community Garden Meetings every 3rd Saturday from 3-4pm
In partnership with GHURA we anticipate upgraded and expanded facilities in 2013. All activities listed below are temporarily suspended until renovations are completed. We project completion by Fall 2013.
2002-2012 Members learn and have a fun-filled time as they engage in various activities in the different Clubhouse rooms.
Members are able to participate in a wide variety of age appropriate workshops, classes and activities, including Prevention Programs and Community Based Programs.
A Saturday Girl's Clubhouse
located in Ysengsong, Dededo where girls can come from 10am-3pm to learn and play!
cooking
art
exercise
dance
presentations
computer
archery
book clubs
and so much more!
OTHER PROJECTS
GUAM SKIPJACKS
Jump Rope Classes every Tuesday and Thursday from 5-6:30pm. This class is open to anyone 7 to Adult, Registration is $30 Annually. Initial registration includes a Jump Rope custom fit to your height. Instructor- Brian Dodge
Visit https://www.americanheart.org/presenter.jhtml?identifier=2360
Upcoming Classes
Capoeira Mandinga Guam- Brazilian Martial Arts for youth & adults
Capoeria Self-Defense- for girls 7-18 twice a year
Instructor-Caroco
BMS After-School Program
We partner with V.S.A. Benavente Middle School to bring positive activities and classes to the students to occupy their time and bring the students together. Classes have included Self-Defense, Jump Rope, Hip Hop, Island-Style Dance, and Chant Classes.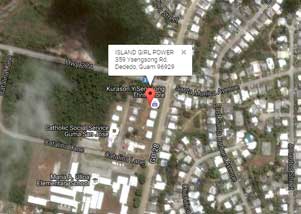 Click here for Club House Location