Island Girl Power takes on aquaponics with tilapia farming - Click Here to Read More
Island Girl Power segment in the 77th Guam Liberation Parade: Virtual Parade, Village to Village, We are Survivors





 
KURASON I'SENGSONG THRIFT STORE
TEMPORARY STORE SCHEDULE TILL JANUARY 2022
SATURDAYS 9-3PM
THRIFT STORE NUMBER: 671-989-1604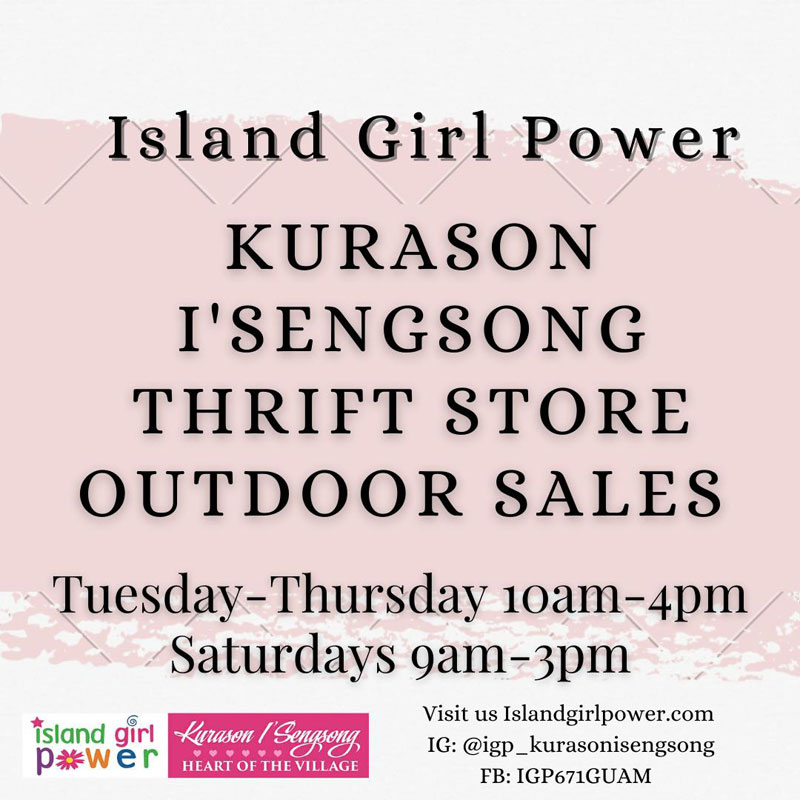 13th Annual Race Judicata 5K: The Carabao Run.
Event Date: April 24 - May 9, 2021

Click Here for Sponsorship
Click Here for More Information

Island Girl Power Pacific Daily News Interview - Click here to read more

All IGP operations closed

All IGP operations (Thrift store, girls clubhouse) closed until further notice. Regular volunteers can come in Monday, Friday and Saturday 9am-2pm.
i94-FM Radio interviews Juanita Blaz. Click Here to watch.
SafeTalk - Suicide Awareness training at IGP

Location: Island Gril Power in Dededo

Training Date: December 21, 2019

MUST REGISTER BEFORE DECEMBER 18.

Click the link below to register:
https://www.surveymonkey.com/r/K5F7HCP
Must be 16 and above to register. For donations, we ask $5 per participant. Not mandatory. Call Juanita Blaz of Island Girl Power 688-4752 for more information.
Dededo Center Events
July 8th - Big Rummage Sale 7-2pm in
July 15th - Service Day (Nature Park)
July 29 & 30- Special Retreat for Island Girl Power Members
Suicide Intervention Training TBA
August
Aikido Self Defense TBA
Back to School Carnival
Capoeira - Self Defense Classes
Open to all ages Male & Female
In Dededo, FEC blue bldg.@ IGP
Tuesdays and Thursdays 6-8pm
Girls Empowerment Clubhouses- Open Member Registration for girl 7-14yrs.​
Malesso Saturdays 9-2pm
Dededo Saturdays 9-3pm, Thursdays 4-7pm
Afterschool Clubhouse
Benavente Middle School Tuesdays 3:30-5:30pm
COMING SOON
Maria Ulloa Elementary School (TBA)
October 15th, 2016 5-8pm
Myracle's Birthday- open to the public art, music, healthy refreshments and raffles (to benefit IGP) DEDEDO IGP
October 22, 2016 6-9pm
Diane's Birthday - Christmas Drop Fundraiser and donation collection AYUDA FOUNDATION, Hagatna
October 28-31, 2016
JFKHS Fundraising HAUNTED HOUSE DEDEDO IGP
Mid November 2016
ASIST Training Applied Suicide Intervention Skills 2DAY 8-5pm (Must Register and Commit to BOTH DAYS)
Call to reserve your spot 688-4752
Kurason Ysengsong Thrift Store
June 14, 2014
Eco-Friendly Feminine Hygiene Products
June 13-16, 2013
Guam Home Center Stihl Carving Auction
February 01, 2013
IGP has launched a new website.